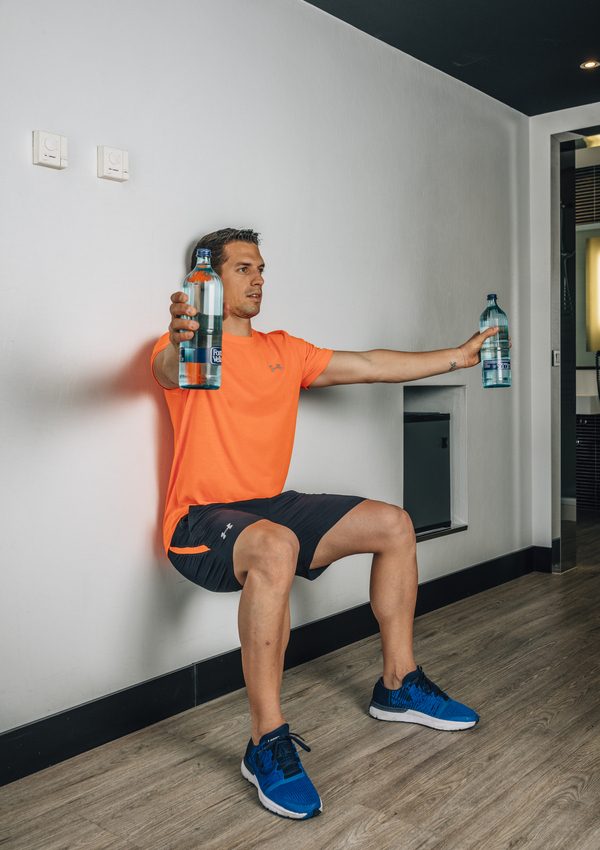 Homemade and everyday materials can offer us additional flexibility and pleasure in our workouts. In these days of confinement, we cannot pass up the opportunity to use them for training and keeping fit.
Benefits of training with walking around the house materials.
They are readily available and can be found in almost any home.
Its versatility opens up a new world of possibilities and awakens our ingenuity to achieve our goals.
Finally, in the case of water bottles, if you feel thirsty after exercise, there will be no problem with cooling.
In recent days, we have put at your disposal a complete guide with over 100 exercises using materials such as water bottles, a simple chair, dead weight, a wall and a couple of rags. Don't wait any longer to download it, and also discover the many tricks and tips we provide in it to learn how to warm up well, take care of food in a healthy way, do the best routines to improve our rest and longevity, and so on. Of course, you find it helpful in these days of quarantine.
Today I present you with some exercises with bottles and a jug of oil, water or whatever you have on hand so you can start enjoying your workout
1. Rowing push-ups
As you've seen, push-ups are one of my favorite exercises. If we add paddle to the equation, we also engage the spinal muscles, something sensational for one exercise. Do 3 sets of 5-8 reps and make sure the execution is slow and controlled, there is no interest in fast or explosive movements.
Series: 3
Reps: 5 with each arm
Muscles involved: pectorals, armor, main muscles.
Difficulty: high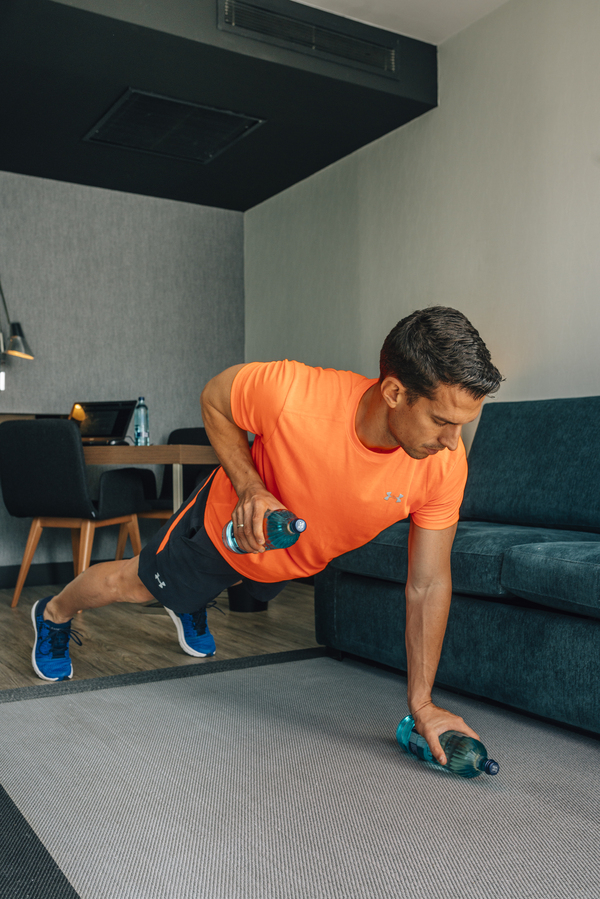 2. Helicopter rail
The difficulty of this exercise is not in the gesture to be performed, but in the instability that the supporting arm must withstand. An exercise that tests your muscle structure, joint and core strength.
Series: 3
Reps: 5-8
Muscles: pectoral muscles, shoulders, gluteus muscles, abdominal girdle, transverse abdomen, flexors and extensors of the hand.
Difficulty: high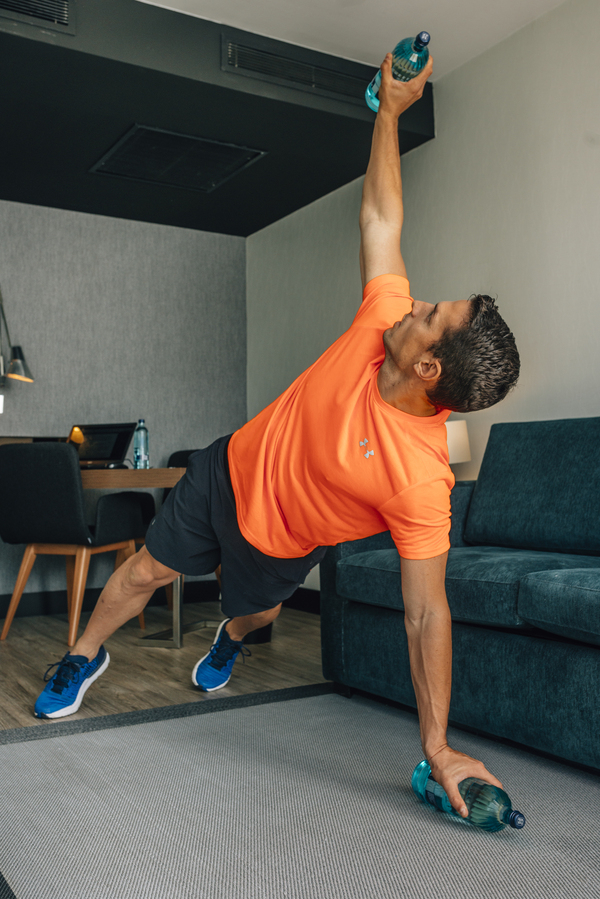 3. Swing with a decanter
This dominant hip exercise is full of strength and dynamism. Remember that the arms are just a support that supports the weight. Of course, you must keep your shoulder girdle active and move your hip to propel the decanter in the direction of its pendulum movement.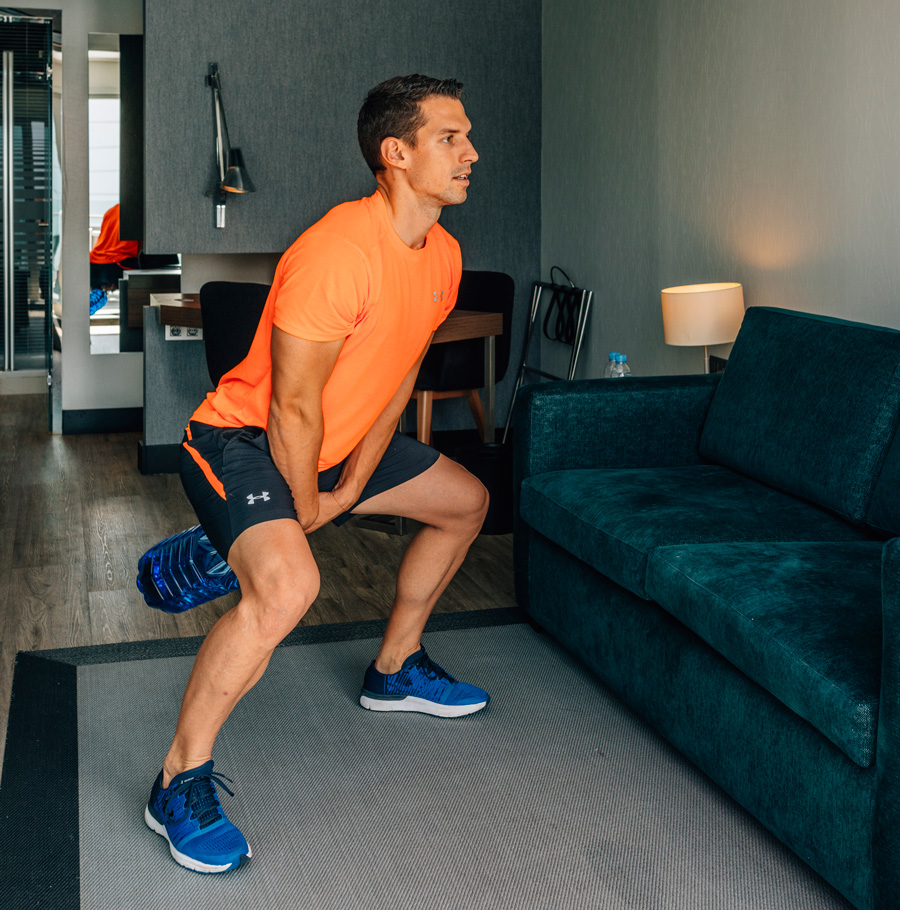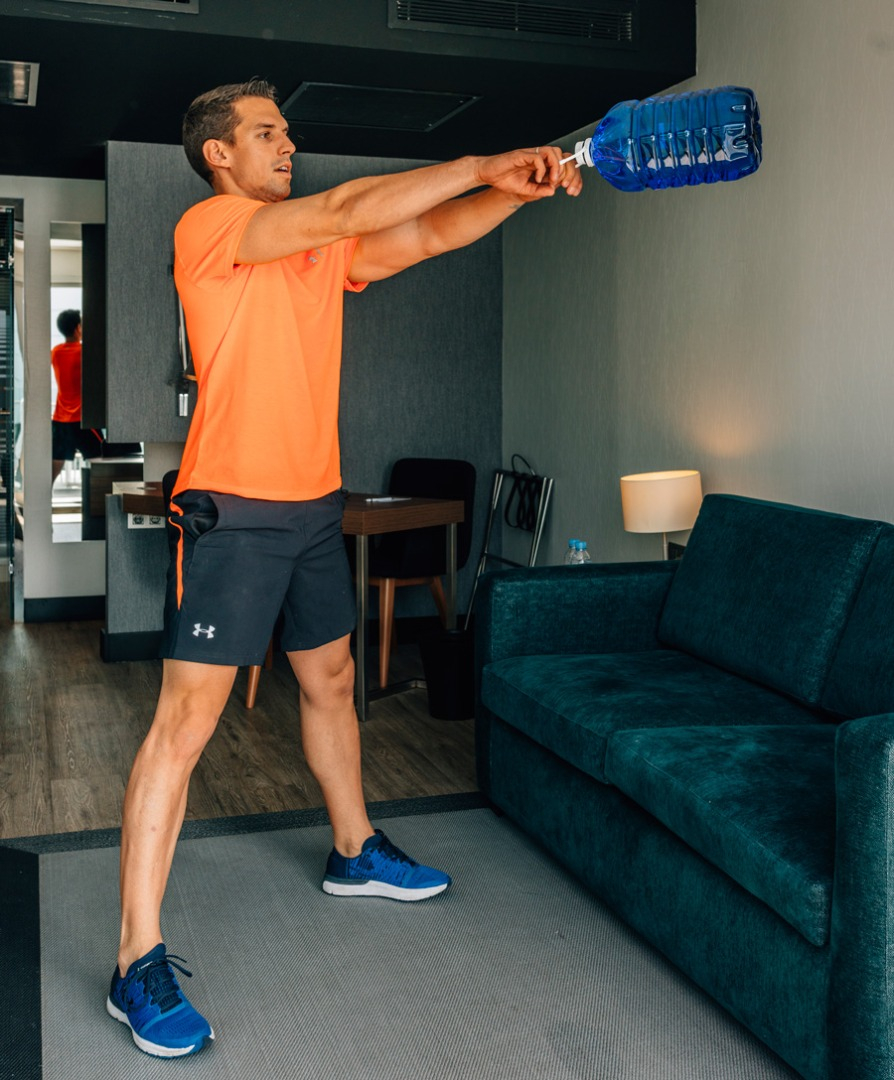 4. Biceps step
Working on the biceps does not contradict the improvement of the muscles in our legs. In this exercise, you can choose the bottle that best suits your current strength level, and remember that you can fill it more or less to adjust the load.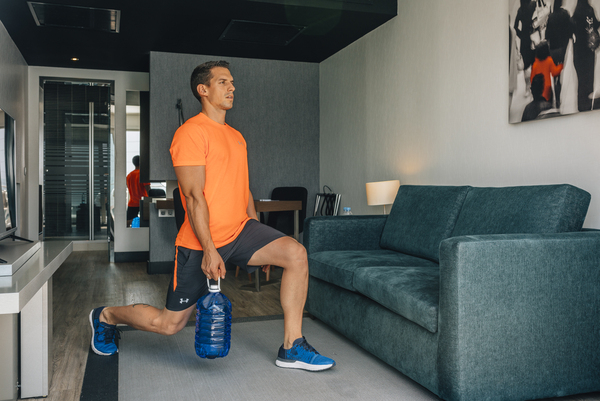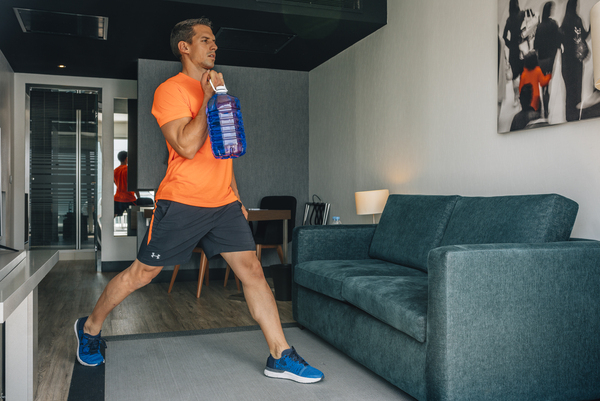 5. Triceps Squats
Try to bend your elbows so that they do not open up from the outside of the body and remain in line with the torso. The squat adds intensity to the exercise and makes it fuller. Do 3 sets of 10 reps.
Series: 3
Reps: 10
Muscles: Triceps, Quadriceps, Glutes, Abdominal Girdle.
Difficulty: low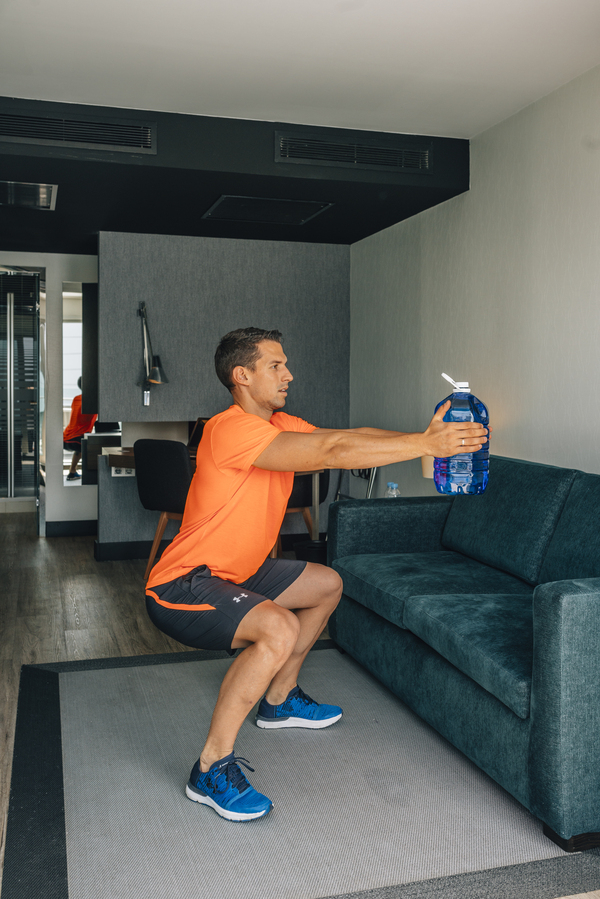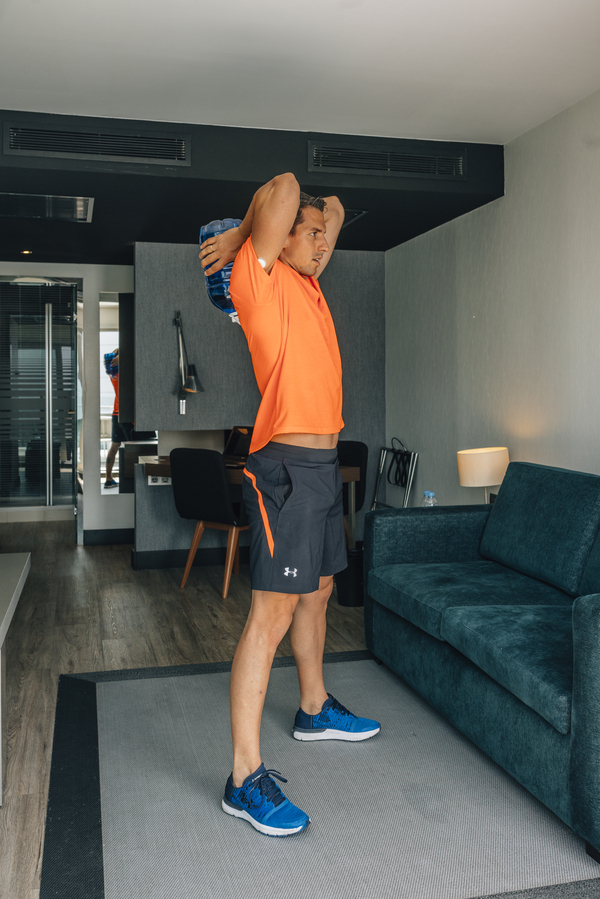 6. Isometric Wall Squats and Shoulder Lift
With two bottles, we can effectively and intensively work the muscles of our shoulders. If you do, choose a scapular plane for your eminences, it is safer for the shoulder joint and is fully consistent with the purpose of the work.
Series: 3
Reps: 10 marks
Muscles engaged: quadriceps, glutes, shoulders.
Difficulty: Medium